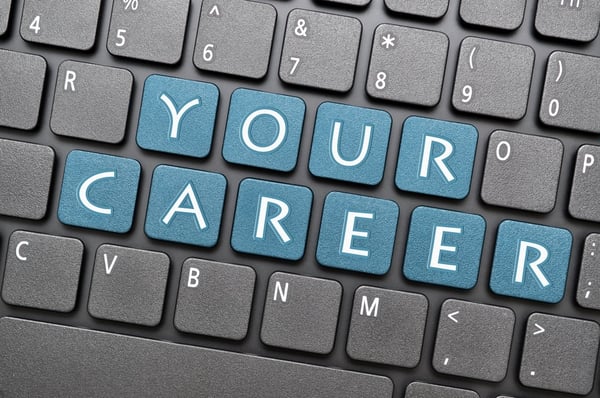 Need a career change? Not sure if you're cut out for the information technology (IT) industry? It's normal to be apprehensive. However, don't let your doubts stand in between you and your dreams! TrainACE connected with a couple of students from different backgrounds to show that success comes in many ways. See how they overcame their obstacles to earn IT Training certifications. If they can do it, so can you!
Make the Career Jump
It takes a great deal of courage to change careers, even if your career is becoming stagnant. The skills you've spent so long crafting in your current career may not cross over with your next job. But sometimes the question of "what if?" becomes too much to resist, so you make the jump! How do you get started in IT?
The Construction Worker
Meet Ryan Flurry, a proud student of TrainACE, who spent years working in construction with the inkling that his best fit might not be construction. He's always been infatuated with technology, as a hobby not so much as a career path. One day, Ryan had a change of heart and researched how to get into the IT field. Through his research, he found that some certifications were needed to move further. Ryan talked it over with his family and they were very supportive of his career change. He started searching for computer training schools in the area and found TrainACE. Ryan has been with the school for nine months now and has completed three IT certifications during that time, wow! He started with the CompTIA A+/ Network+ Training class, which is the course meant for those breaking into the industry. Ryan thought it was a little overwhelming at first taking the A+ and Network+ together, but when he started studying realized it was doable.
"Yeah, it's kind of a lot all at once in the beginning, but I like a decent challenge" said Ryan.
Ryan receieved his A+ certification in March and Net+ certification a month later. He returned back to TrainACE in the summer. He followed his A+/Net+ certification with the CompTIA Security+ Training Class in June and was able to obtain the certification by July!
"Security+ was definitely my favorite, this course is why I wanted a career change, not to mention the instructor was phenomenal," stated Ryan.
Today, Ryan is proud to be an IT Support Specialist for Dynasplint Systems in Severna Park, Maryland. He has been there for a couple months now and loves every moment of it!
"I like my job! There is never a dull moment, I am always doing something and it's always different, keeps me on my toes," Ryan exclaimed.
Down the road, Ryan has aspirations of completing more IT certifications.
"I am going to focus on my new job for the time being, but of course I want to earn more certifications. I'm hooked! I want to take a course that deals with servers. I'll probably study on my own for the CompTIA Server+ certification. But, I'll probably take CompTIA CSyA+ Training Class with TrainACE. This course seems to align well with my current job. I use server equipment daily, it just makes sense and you bet I'll be taking the course at TrainACE!"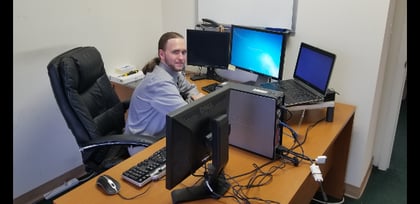 Here is Ryan at his new job as an IT Support Specialist, keep up the good work!
The Weekend Traveler
Now meet Cassandra Lawson, another student of TrainACE who had a similar, yet different path to Ryan. Like Ryan, Cassandra did not come from an IT or cybersecurity background.
"What made me want to pursue a career in the IT industry is the challenges that it brings forth. I'm looking for constant challenges in my work. It is a perfect fit for me! IT involves a lot of problem solving and for me the challenge is welcome," stated Cassandra.
Cassandra sure does like a challenge, in fact she works full time as a Judiciary Clerk III Lead for the District Court of Maryland in Ocean City Maryland. Not to mention, she commuted every Saturday for three months from Berlin, Maryland to TrainACE's location in Greenbelt, Maryland just to take CompTIA's A+/Net+ Training Class. Her dedication paid off! She received a part-time position as a Tech Sales Associate for Staples not too long ago.
A typical day for Cassandra working in the Tech Department doesn't exist. Each day is unique and brings a new challenge! Cassandra is always working towards building a lasting relationship with the customers while driving technology sales. She enjoys running diagnostics on customers' computers so that she can resolve any problems they may have with their desktops/laptops. By solving customers' concerns she is learning herself and becoming a vital team member in the Tech Department. So maybe the three hour job every weekend was worth it after all!
Cassandra crossed paths with TrainACE through a friend who enrolled in TrainACE about seven years ago. She loved TrainACE's schedule flexibility. She found interest in the Saturday courses since she now works two jobs.
"After sharing my career change ideas with my friend, she recommended I enroll in classes at TrainACE because of the schedule flexibility," Cassandra stated.
Cassandra does want to acquire more IT certifications when she completes her CompTIA A+/Net+ Exam. She wants to take the CompTIA Security+ Training Class next. She closed out the interview with a very inspirational quote of her own.
"I don't plan on stopping with my IT certifications. I am going to be courageous and take well thought out chances. I will allow risk to be my best friend...My aspirations will fade if I give up and stop trying. Success isn't easy."
Here's Cassandra working her second job in the Tech Support Center at Staples, keep up the hard work!
Convinced IT would be a great career fit? Reach out to TrainACE today!