Starting a career in IT isn't always straightforward, especially for people looking to transition careers. But, with the perpetual technical talent gap and the ever-increasing need for IT professionals, there has never been a better time to pursue a career in this field. In this article, we'll explore the benefits and challenges of starting a career in IT and provide some helpful tips for success.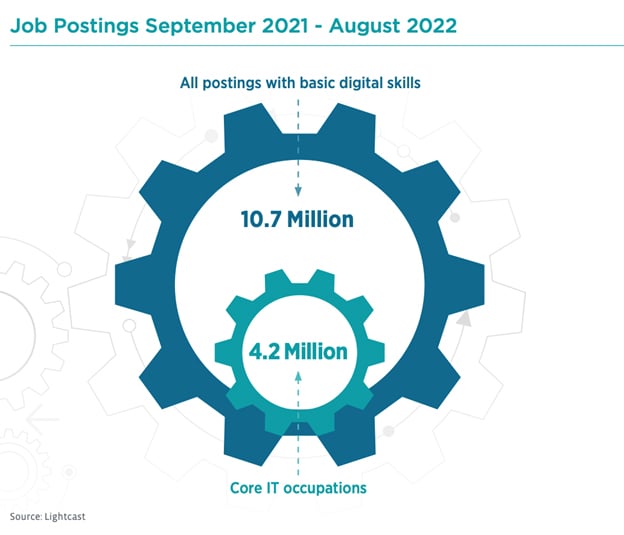 Benefits of working in IT
There are several reasons to pursue a technical career:
High demand: Technical professionals are in high demand, and this trend is expected to continue for the foreseeable future. Millions of job opportunities are available to individuals of all technical skill levels from Washington, D.C., to Seattle, Washington. An added bonus of being an in-demand field of study, IT professionals can command higher salaries than many other industry-specific jobs. Organizations worldwide rely on technology for most of their operations and core functionality – without it, most companies couldn't function.
Flexibility: Depending on the job, IT is a field that offers a great deal of flexibility in work schedule, location, and specialization. IT professionals can work from home, work part-time or full-time, and choose a specialization that aligns with their interests. For businesses, IT provides benefits such as faster communication and the ability to store, access, and transmit data securely. This productivity and efficiency increased by technology requires having a well-developed technical infrastructure and trained professionals to build, administer, and maintain hardware and the networks they're connected to.
Constant learning: As a specialized field, information technology continues to evolve, and those working in it are expected to stay up-to-date with the latest technologies and trends. There is always something new to learn, making continued skill development necessary to stay fresh and relevant throughout your career.
Challenges of starting a career in IT
Starting a career in IT can also present problems:
Learning curve: IT is a complex and technical field, and it can take time to develop the skills and knowledge necessary to be successful. This can be challenging for those who are just starting, especially if they have little or no prior experience in IT.
Ageism: Unfortunately, ageism is a real issue in the tech industry, affecting workers of all ages. Many older professionals looking to switch careers may face discrimination when seeking employment. Employers may view older workers as less adaptable to new technologies or less willing to learn. On the other hand, younger professionals just starting careers can be seen as inexperienced and find it difficult to gain training and experience before landing their first technical role. In both cases, it's critical to learn as much as possible – through certifications and hands-on knowledge – and continue learning as new systems, hardware, regulations, and standards emerge.
Competition: The high demand for IT professionals also means that there is a great deal of competition for job opportunities. This can be challenging for those who are just starting out or who are transitioning from another field. And with the rise in remote work opportunities since 2020, the competition is no longer just from local applicants but people across the country.
Tips for Success
Here are some tips for success no matter when you choose to begin your IT career journey:
Start with the basics: If you are completely new to IT, start by gaining a solid foundation to build your career. Through online courses or

in-person training

, you can find the solution that works for your schedule and budget. Take a look at our

CompTIA A+

and

CompTIA Network+ course

options to start building your foundation.
Gain experience: Try to gain as much hands-on experience as possible, whether it's through internships, volunteer work, or personal projects. This will help you build your skills and develop a portfolio of work that you can showcase to potential employers. Experiences like this are great ways to continue your learning. If you're looking for guidance, call to

speak with a member of our team

.

Network: Building a strong professional network is important in any industry, especially IT and Cybersecurity. Trusted relationships are the foundation of better opportunities. Attend industry events, join online communities, and connect with others in the field. These connections can lead to work opportunities, mentorship, and new experiences. Whatever your personal and professional goals are, networking can help you achieve them.
Be adaptable: IT is a constantly evolving field, so it's important to adapt and learn new skills, tactics, and technologies.
Don't let challenges hold you back: New and frustrating problems will always arise, but focus on your skills and experience, and be confident in your abilities.
Starting a career in IT at any age or skill level can be challenging. Still, it is also a rewarding and fulfilling career path for those passionate about technology and its uses and impact on the world. With the right mindset, dedication, and a commitment to lifelong learning, you can build a successful and satisfying career in this exciting and growing field.
Learn more about the top three technical career paths in 2023.