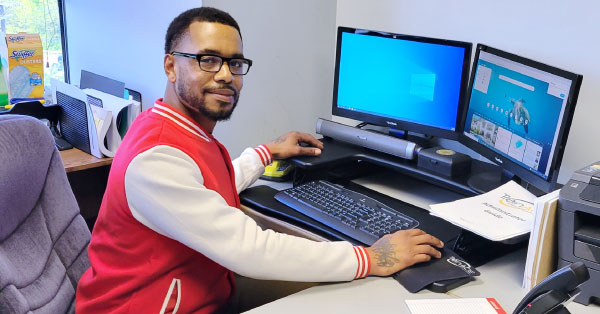 If you are passionate about computers and want to switch to the IT field, then you are in luck! There are lots of opportunities available for those who have been working in a job outside of IT but have the passion and knowledge to pursue a career in this field. With the right qualifications, training, and experience, you can easily make the switch and start building an IT career. Here's how I did it.
Life Before IT - Where I Started From
I remember the first computer I used (in school) was an old McIntosh that used the retro-styled floppy disk drive. The monitor housing was bulky, and the screen display might have been ten inches. As a child, I enjoyed playing games like Number Muncher and Ping Pong, to name a few. It was a new thing then, and I fell in love with computers, even though all my games were in black and white and had no color. That was in 1991. In the past year, I have embraced my desire to work in IT, installing, modifying, and maintaining computers at TrainACE as a Systems Admin, but I didn't start here. My first career was in construction.
In 2003 I met a guy named Jim Daily. I was walking my dog when I met him. He stopped me and asked a few questions about my dog, and we ended up having a long conversation. He mentioned he had a waterproofing (construction) business and could use a helper. I was 15 years old and still in school, but wanted to earn money.
Jim took me on over the summer. He taught me about working in construction, including safety practices, safety policies, and how to implement them. I was excited because I love working with my hands and learning new skills. Jim kept his end of the bargain and made sure that he taught me everything he knew about the business. I worked part-time for Jim until I graduated high school, at which point he took me on full-time. I enjoyed working for Jim, and he treated me fairly; however, I reached a point where I wanted to expand my experience.
In 2014 was hired by Urban Zink Contractors. Urban Zink is a site development company that hires and trains heavy equipment operators. Working for Urban Zink exposed me to other skilled trades. Although I enjoyed working there, it was still not where my passions lay. I also found it challenging to make a living due to the extreme weather conditions. I realized that the longer I stayed with that company, the more it took me away from what I really enjoyed doing.
Finding TrainACE and How They Helped Me Pursue an IT Career
At this point, I decided to save my money and go to school. I knew I would need specialized training and certifications to advance in IT. In 2020 I searched for the best-reviewed, most cost-effective local IT academy in my area. Google directed me to TrainACE in Greenbelt, Md. Once enrolled, I met many helpful individuals and instructors who have been nothing but Stellar along my journey. John Walther (General Manager) and John Eberle (my A+/Net+ instructor), to name a few, have been reliable resources available to me. This adjustment to my life made me very happy.
TrainACE is an IT Academy designed to help people pursue a career in the IT profession. It offered me specialized training and certifications to help me follow my desired career path as a systems administrator. With its comprehensive courses and experienced instructors, TrainACE was the perfect environment for me to turn my hobby and passion into a career.
How I Chose the Right Class to Get Started in IT
TrainACE offers comprehensive courses for various IT careers, from systems administrator to cybersecurity. Being new to the game, I needed help choosing the best class. I wanted to build on the rudimentary skills and gaming experience I learned at school, so the guys at TrainACE recommended CompTIA A+ and CompTIA Network+ as the ideal starting point. Preparing for the CompTIA A+ exam taught me how a computer works and some basic networking, while the Network+ class expanded that networking knowledge, so I am now able to help support a company-level network environment.
How TrainACE's Unique Benefits & Support System Ensured My Success
Once enrolled, I met many helpful individuals and instructors who have been nothing but Stellar along my journey. John Walther (General Manager) and John Eberle (my A+/Net+ instructor) have been reliable resources who encouraged me along the way. I studied hard for the A+ and Net+ exams, which included attending the free Study Groups. These are sessions where I was able to get additional help with understanding difficult concepts and skills taught in the class. These groups, combined with the hands-on approach to teaching, made a huge difference in my success in the course.
How TrainACE Helped Me Prepare for the Real-World Challenges of an IT Professional
As an IT professional, you will face many challenges in the real world. You'll need to be prepared for these challenges and have the right skills and knowledge to take on the job. I found that TrainACE's practical and hands-on teaching helped me meet these requirements by providing me with comprehensive training courses that covered all the necessary topics. The courses gave me a robust understanding of IT concepts, allowing me to apply them in a practical setting.
So, here I am, working as a Systems Administrator at TrainACE. It's a long way from Jim Daily and Urban Zink. It took a little time and a lot of determination, but the journey was worth it. I'm now very happily developing my skills and building my experience. I could begin the career I had always had a passion for.
What's more, I'm now using my new skills to assist other students with their training, helping them break into the IT industry just like I did. Seeing students come to class, learn, and pass their exams are a priceless reward. As a former student, I remember being in that position.
My main advice to anyone looking to dive into an IT career is to stay focused on your goal, never give up, and, if possible, consider coming to TrainACE, where we have credible instructors and staff that can help further your IT career.