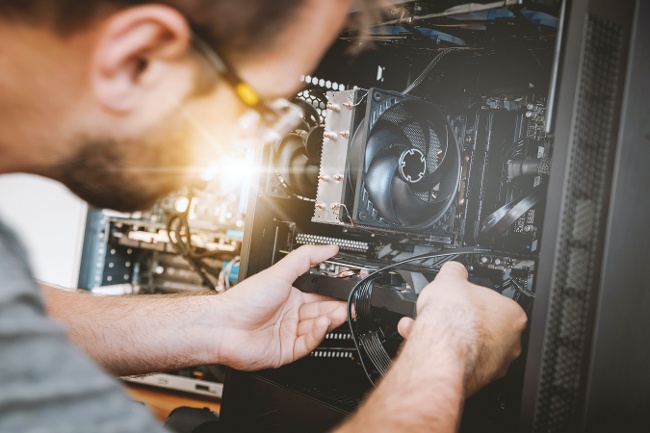 Suppose you are thinking about becoming a system administrator in your organization's information technology (IT) department. In that case, you need to have specific training and experience and get things done. To know if you are a good fit for a system administrator role, it's important to understand what it is, what you'll do in that role and the benefits of this career path.
What is a System Administrator?
A system administrator, also sometimes called a network administrator or sysadmin, is a role that is responsible for making sure that an organization's networks can efficiently and effectively manage daily operations. To minimize work interruptions, sysadmins are responsible for maintaining the uptime of the organization's servers, internet, and computers. The role includes system configuration and maintenance, like installing and troubleshooting software and hardware and assessing new or different technologies for their employers.
As more and more organizations and industries rely on digital systems to store and interact with data, the need for system administrators continues to grow. Sysadmins are instrumental in organizing and supporting a company's networks, computer systems, data communication systems, and network segments.
What Does a System Administrator Do?
Primarily, the duties of a system administrator include installing, updating, and maintaining computer and network systems while managing user accessibility. As a system administrator, you will be able to change settings, remove or install software, and access certain security functions that the typical end-user doesn't have access to. You may oversee several machines or a whole network.
Sysadmins provide tech support for any issues that users are experiencing and work with other IT professionals to ensure the continued operation of the network. As a sysadmin, you will also likely determine the access level that specific users have to system information, what functions they can perform, and limiting their access to only what they need to perform their job role.
These are typical responsibilities of a system administrator, but depending on the specific organization and its needs, the duties of a sysadmin may include more or fewer than the above.
Why Become a System Administrator in Washington, DC?
With today's continued advancement in the technology industry, it's not surprising to note that nearly all technology careers are in demand. In fact, according to the US Bureau of Labor and Statistics, it's projected that there will be nearly 20,000 new sysadmin positions in addition to 25,000 that remain open each year. This means that IT professionals who work as system administrators will have ample job opportunities and job security for the foreseeable future.
Additionally, like many other IT roles, the system administrator has a higher earning potential than many other roles with similar experience required in other industries. In Washington, DC, and surrounding areas, salaries for sysadmins are even higher. The average base salary for a sysadmin in metro Washington, DC is $101,119, an annual salary that is 36% higher than the national average.
The sysadmin role requires both technical and soft skills like good communication and interpersonal skills to perform well. It's an excellent position for those who like to troubleshoot technical issues and work alongside others in and out of the IT department. The system administrator role is a solid option with a lot of growth and advancement potential.
How Does Systems Administration Fit Into NIST's NICE Framework?
The NICE (NICE) framework is a set of IT functions and tasks utilized to define IT roles within the federal government. NICE is mandatory for information security roles within the US federal government and adopted by many private organizations that do business with the federal government. This is important to know if you intend to work in the industry around Washington DC, with so many federal and private organizations reliant on government contracts.
Within NICE, System Administration is a dedicated Specialty Area under the Operate and Maintain (OM) category. The tasks and knowledge requirements cover all the areas we have discussed above, including:
System installation, configuration, and troubleshooting
Server maintenance and configuration to ensure their confidentiality, integrity, and availability
Management of accounts, firewalls, and patches
Responsibility for access control, passwords, and administration
How to Become a System Administrator Washington, DC
There isn't one particular path you have to follow to get into a system administrator role. It can be advantageous to have a bachelor's degree in a relevant field, but it isn't a requirement for many sysadmin jobs. Many individuals who become sysadmins do so by working their way up from other jobs and obtaining IT certifications to validate their abilities. In metropolitan Washington, DC, most organizations require sysadmin candidates to have some work experience in IT, possibly in support roles.
As you gain experience as a System Administrator, you'll be expected to be a jack-of-all-trades covering a wide range of IT specializations. In larger companies, you may focus on a particular area, but with most, you will need to acquire knowledge in different technologies. Alongside your basic CompTIA A+ and Network+ certifications, we'd recommend that you add Security+, Microsoft Azure, Amazon's AWS and Cisco CCNA certifications over time. You won't need all these right away, so you can adapt your training program based on your current role and organization needs as your career develops. These credentials prove that you have proficiency in key areas and desire to advance and grow in your IT career.
At TrainACE, we help IT professionals in Washington, DC, Maryland, and Virginia learn the skills needed to successfully pass IT certification exams that local organizations are looking for in candidates. Whether you are just beginning in IT or further down your desired career path, TrainACE has training courses that will enhance your career and help you grow as an IT professional. Contact us today to schedule your next IT course.