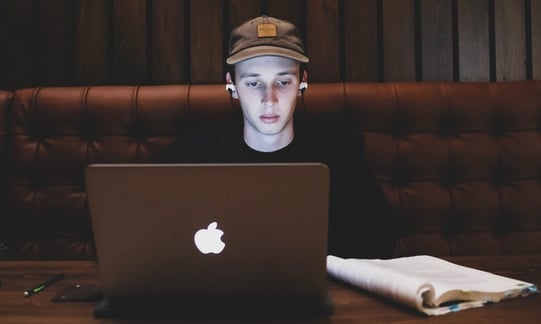 To become CompTIA A+ certified, there are two exams that you must take and pass. These exams are much like any other written test you may have taken in the past. The exams each contain different types of questions that are used to validate your knowledge in specific areas. It's difficult to say how hard the exams are, because every test-taker has a different level of IT experience, knowledge, and skills. Further, individuals may have a different way of approaching exams and a different level of anxiety about test-taking.
The important thing to remember when you are wondering about how hard the CompTIA A+ certification exams will be, is that the more prepared you are, the better you will do. Part of that preparation is knowing what to expect on the exams.
What Do You Need to Know about the CompTIA A+ Certification Exams?
To receive the CompTIA A+ certification you have to pass two exams, 220-1001 (Core 1) and 220-1002 (Core 2). These exams were recently launched (January 2019) with the following new objectives:
Demonstrate standard security skills for information technology (IT) professionals
Configure various operating systems, including Windows, Linux, Mac, Chrome OS, iOS, and Android, and manage cloud-based and client-based software
Troubleshooting and problem solving of service and support issues while using best practices for scripting, change management, and documentation
Supporting basic IT networking and infrastructure
Support and configure mobile, PC, and IoT (Internet of Things) devices
Deploy basic backup and recovery methods for data, as well as data management and storage best practices
The first exam, Core 1, covers hardware, networking technology, mobile devices, cloud computing, virtualization, and networking troubleshooting. The Core 2 exam tests your knowledge of software troubleshooting, installing operating systems, configuring operating systems, operations procedures, and expanded security. Each exam has about 90 questions, of which there are multiple-choice questions, drag and drop questions, and performance-based questions. You will have an hour and a half to complete each exam.
Passing requires that you score at least 675 for exam #220-1001 and 700 for #220-1002 on a scale of 100-900.
How to Prepare for CompTIA A+ Certification Exams
While it's impossible to say how hard the A+ certification exams will be for you personally, there are some things that you can do to properly prepare, so you have a better likelihood of successfully obtaining your A+ credential:
Know the Exam Objectives
This may seem obvious, but knowing the objectives is more than just an indication of what will be on the exams. It also lets you know how you are progressing through the test material. Because the exams are timed, it's important that you know where you are and how much of the material you have left to cover on the test.
Know Your Learning Type
Everyone learns best in a particular way. Knowing what type of learner you are will help you study for the exams more effectively. Perhaps you learn best by writing things down or taking notes. Or maybe you remember facts better by using flash cards to study. Maybe you need to explain concepts aloud to someone else to ensure you have a good grasp of the information. Figure out what works best for you and then use that strategy to prepare.
Practice, Practice, Practice
You can find practice tests for nearly every exam that is offered by CompTIA, including the A+ exams. Take these practice tests several times to see how you do. As you are reviewing your results, you can determine which areas you are having trouble with, and then increase your study efforts in those areas.
Take a Training Course with a Professional
While studying by yourself is important before you take certification exams, it can be much more effective to take a training course in which you are taught by a professional in the industry. Whether you choose a classroom setting or an online course, learning from an expert instructor who can clarify any confusion you have and offer tips and advice about test-taking is always beneficial.
Preparing for CompTIA A+ Certification with TrainACE
Getting your CompTIA A+ certification is a great way to get started in IT, but it takes time and effort to study for your certification exams. At TrainACE, we can help make it easier with our comprehensive courses and top-rated instructors to help you prepare and practice for your exams. Our CompTIA A+ certification training course will ensure that you are fully prepared to pass the tests and earn your credentials.