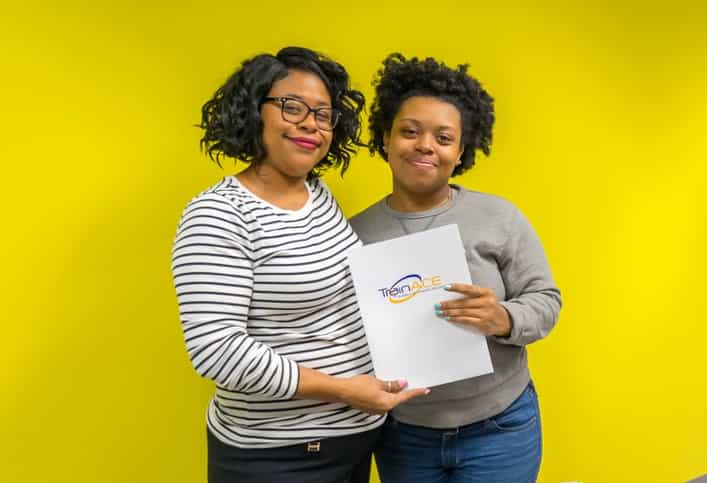 CompTIA A+ and Network+ certification training was top of the agenda for many attendees of our Career-Changer Open House earlier this week. On hand to talk in more depth about our classes were TrainACE Instructors Rita Whitfield, Rico Cody and John Oyeleke. Held at our headquarters in Greenbelt, MD, attendees enjoyed pizza, cookies, and soda, whilst they learned more about our training classes from some of our most engaging instructors.
'Career-Changer' - a TrainACE open house
The Career-Changer Open House was primarily aimed at anyone looking to move into an IT career, whether they are looking to change from a different industry into IT, or beef up academic qualifications with some industry certifications to land that all-important first job.
CompTIA A+ and Network+ training are perfect for this audience as they are entry-level qualifications that introduce the fundamentals of computer and network installation, maintenance and troubleshooting.
We also had instructors talking about next step classes like CompTIA Security+ and CySA+
Of course, the Open House was open to anyone, and there were some attendees looking for information on our more advanced classes, with attendees touching on Cisco CCNA and some of our more advanced cybersecurity and hacking classes such as the EC-Council Certified Ethical Hacker (CEH) qualification.
Learning, engagement and free pizza!
TrainACE's General Manager, John Walther kicked off the evenings' events, welcoming the first guests, handing our resource packets and guiding them to the labs to meet the instructors.
Our training consultants Joe Coughlan, Ryan McDevitt and Rodney Walker were on hand to meet their client's one on one and walk them through the training and purchasing process.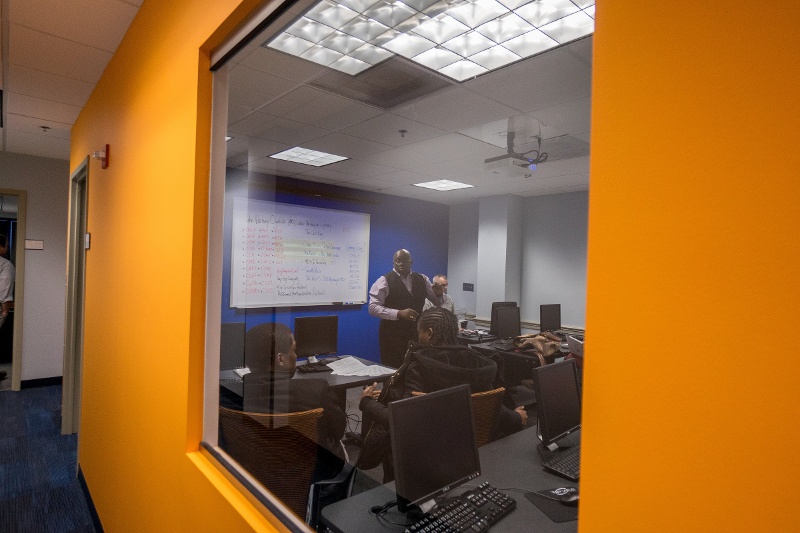 In the meantime, John Oyeleke wasted no time and filled an entire lab with future students as he talked through his credentials and the classes he teaches.
Rico Cody and Rita Whitfield took a more one-to-one approach. In Lab 4, Rita focused on CompTIA Security+ and Cisco CySA+ whilst in Lab 2, Rico engaged attendees on CompTIA A+ and Network+, as well as moving into a deeper discussion around Certified Ethical Hacking and cybersecurity.
Lab 2 also had a demonstration of computer components and peripherals. Whereas many training providers focus on 'book' learning (particularly online-only providers) at TrainACE we believe that where possible we should combine 'book' learning with practical hands-on instruction. Indeed, our combined A+/Network+ class comprises of 60% hands-on tuition.
Throughout the evening attendees took advantage of free pizza, cookies, and soda in the break room, which gave them chance to discuss the more practical side of TrainACE's services with the training consultants. Understanding when and where you can take a class, and having a chance to get to know the friendly and informative TrainACE staff is all part of the process.
The evening rounded out with the official draw for a free class that attendees were eligible to participate in. Here we see Chris, who clearly enjoyed the evening.
Next steps ... get trained and certified!
For many Open House attendees, the next step is to sign up for one of our entry-level courses. This usually (but not always) means the CompTIA A+ and Network+ class.
When it comes to employment, hiring managers often use the A+ and Network+ certifications as a benchmark in the hiring process. The two classes often go hand-in-hand and you will find your job search much easier if you have both. For this reason TrainACE offers a CompTIA A+/Network+ bundle option where you can sign up and take both classes at a discount and in a more efficient time frame.
Attendees of the Career-Changer Open House got a lot out of the evening. The chance to meet the instructors in person, the chance to ask those nagging questions they got when trawling the web for training and making the connection with the company and staff all mattered. Many attendees left with a feeling of time well spent.
We hope you will be able to attend one of our future Open House events. Subscribe to our blog or follow us on social media to find out when the next one is.