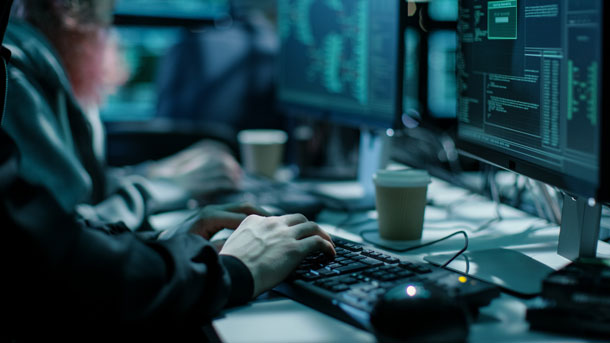 Almost everyone has inevitably been affected by malware or phishing scams. In 2019 alone there have been at least 48 security breaches involving large companies such as Houzz, Coffee Meets Bagel, and Facebook. Compromised personal data continues to headline the news, and it doesn't seem to be slowing down.
Cybercriminals continue to hack inside computers for information, provide cybercrime as a service and hold data for ransom. As the revenue of cybercrime climbs to 1.5 trillion, it has become a profitable occupation.
Although the vulnerability of our information is alarming, for those considering a career in Cybersecurity, it shows the incredible need for sharp, problem-solving cybersecurity professionals.
Why Should You Start a Career in Cybersecurity?
Every organization is at risk from attacks making cybersecurity an urgent need across all industries.
Cybersecurity encompasses everything related to the safety and security of digital information. The main objective of cybersecurity is to prevent hacking, detect breaches in software and respond to cyberattacks.
Loss of revenue, drop in stock prices and tainted reputations drive demand for cybersecurity professionals. Yet, there is a shortage in the workforce. According to ESG Global, 53% of companies reported they need cybersecurity professionals. In support of this claim, the current unemployment rate is at an incredible zero percent.
Additionally, due to this workforce shortage, companies are ready to snatch up qualified candidates with competitive compensation. The average salary for Information Security Analysts was $95,510 in May 2017, according to the Bureau of Labor Statistics.
These are encouraging statistics for those interested in a meaningful and lucrative cybersecurity career.
How Do You Start a Career in Cybersecurity?
There are many unique paths within cybersecurity, but there are two main routes: engineering and management.
Whether you already have IT experience or are starting from scratch, you must think about which aspect of cybersecurity you want to work in. Knowing which daily tasks and goals pique your interest can guide you in choosing your ideal job within cybersecurity.
Are you interested in detecting malware? Become a Threat Detection Analyst. Perhaps you want to hack your own systems to find weak spots? Become a Penetration Tester.
Across the board, if you want to pursue a career in cybersecurity it is imperative to understand basic coding and how technology works. However, not every job requires you to be a programmer.
Based on which interests align with which career opportunity, you can determine which skills are needed for your desired job.
For example, if you choose the managerial route, you need to be able to create a strategy, manage a team and have great communication skills to execute the tactics you outline. Most managers start as analysts and receive continuing education to rise into management.
Once you clarify your ideal job and pinpoint missing skills, the next step is to take classes from a reputable school.
What Education is Required to Start a Career in Cybersecurity?
There are a few different options for becoming a qualified cybersecurity professional. Although some cybersecurity professionals are self-taught and pursued untraditional education, many companies still prefer certifications or relevant work experience.
If you're interested in taking the traditional route, an Associate or Bachelor degree in cybersecurity is a good option. Courses taken at a community college, a state school, or a university can provide classes on the basics of security modeling, cryptography and recovering information.
Whether you have a college degree or not, going through two to four years of higher education, while helpful, is not essential. Instead, earn certifications through reputable online schools that can provide the skills and qualifications to jumpstart your cybersecurity career.
Relevant experience and education should not be underestimated in this pioneering field. Earning accredited certifications shows that you understand best practices and are up to date on recent changes in the industry.
Certifications provide the necessary foundation to showcase the knowledge and experience needed to land entry-level jobs. Candidate resumes that have listed certifications in A+, Network+, Security+ and Ethical Hacking, among others, stand out to hiring managers. You can be hired to be a Computer Technician, a Network Support Specialist or a Cybersecurity Analyst.
Relevant certifications and cybersecurity education is the key to getting your foot in the door.
With cybersecurity being a constantly changing field it's important that you are prepared to keep up with the latest developments. As you progress in your cybersecurity career you'll need to keep your certifications up to date and take more advanced training when you seek promotions.
Attaining the necessary certifications you need to get started as a cybersecurity professional requires hard work and dedication. But once you have them you'll have opened up a wide range of rewarding, in-demand career opportunities, with a high earning potential.