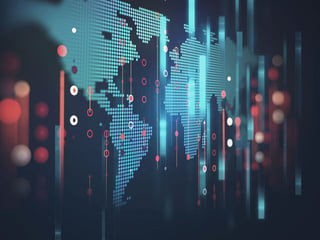 Today, end users having very different expectations of their IT departments than they did in the past. Large developments in networking capacity, media streaming, data processing, and the Internet have accounted for very different preferences.
These trends will most likely continue and IT administrators will have to be prepared by having a well-rounded IT team. This is now becoming the norm regardless of the size or the organization. Highly skilled workers are a hot commodity, especially in this field. Here are the top 5 skills with certifications and jobs that match what every IT department is looking for in their team.
1. Network Administration
Any complex data center lives or dies on the efficiency and dependability of its data network. Failure of a physical server, connection, switch, or router can be very costly when it disconnects end users, automated factory floors, or online retail operations from vital IT functionality. All of this increases the need for strong network management which provides vital information for planning and testing healthy networks and the environments they service. The amount and type of network traffic can provide important clues as to the kinds of hardware and software necessary to run an operation efficiently. The ability to knowledgeably choose the correct hardware, implement connections, and work with the software are highly specific skills.
Network administration covers a broad spectrum, but a solid understanding of TCP/IP, DNS, and related technologies (i.e., load balancing and NTP) are key. It seems that because of the volume and speed with which companies are adopting new technologies such as virtualization and the cloud, hands-on practical networking experience is preferred by hiring managers, but certifications can't hurt!
Certifications related to this skill:
Most common job titles:
2. Cybersecurity
Malicious software, Distributed Denial of Service (DDOS), cyber attacks - these represent the reality of corporate computing today. Moreover, IT professionals must always be aware of internal security issues, from the mundane to the complex as well as understanding the vulnerabilities within their own networks, from operating systems and servers to basic hardware and cabling. While it's good to specialize, it's obvious from the breadth of these examples that having knowledge and capabilities across a broad security spectrum can make a difference in any IT department.
A few of the valuable security skills include expertise in identity and access management, threat/vulnerability assessment, encryption, data loss prevention, incident analysis, governance, compliance and auditing, biometrics, and Web content filtering. Today, it's increasingly common to outsource the more technical and sensitive areas to security specialists, but it's also important to pre-empt attacks and possible data loss with in-house capabilities. In terms of security, IT must have the necessary ability to make good decisions about the security portfolio, and this requires a certain level of security competency in some, or all, members of an IT team.
Certifications related to this skill:
Most common job titles:
3. Project Management
It's interesting to note how this skill that might normally fall under production or administration responsibility is now considered essential for IT. For example, when you consider the number of advanced projects that IT has had to undertake, from virtualization implementation and cloud integration to storage increases, Disaster Recovery (DR), and Unified Communications (UC), the need for this skill is understandable. Every one of the new technologies IT is expected to implement consists of many complicated moving parts with hard deadlines and benchmark targets that have little room for compromise or failure.
When you consider that most if not all companies will expect normal business functioning during implementations, the need for precise, capable scheduling, prioritizing, and goal-setting is understandable. IT project managers, or IT team members who possess this skill, must have an understanding of the business on a larger scale as well as thorough knowledge of the IT world. IT is the locus for technology development and the complex technical initiatives companies undertake. Having competency in this skill set will be in great demand as companies continue to upgrade their technical environments to keep pace with new innovations as well as with their competitors.
Certifications related to this skill:
Most common job titles:
4. Virtualization
Virtualization means converting multiple physical servers to virtual machines (VM). This experience and the ability to convert non-virtualized environments into virtual ones is closely tied to networking abilities. When you partition one physical server into several VMs, you can deploy, operate, and manage multiple operating system instances at once on that single physical server and, consequently, save on a variety of costs. Some of the related skills that are important to have in this area are server maintenance, application development, storage allocation, and security.
In terms of cloud computing, a primary goal is to reduce the cost of computing resources while increasing system flexibility and scaling. During and after cloud implementation, there are a number of skills that are invaluable. These include scaling expertise which requires a unique ability to design and implement cloud-scale applications. A master integrator skill enables one to build best-of-breed hybrid solutions that consume elements from many different sources, both public and private clouds. Another key cloud-based skill is Application Programming Interface (API) knowledge. Designing or implementing an API is part science and part art, and highly specialized. Anyone with this skill would be a solid addition to an IT team. Finally, skill as an automation wizard means having familiarity with the design and implementation of automated systems. To fulfill the ideal of fast access to cloud services, automation is crucial and so is the ability to work with these systems.
Certifications related to this skill:
Most common job titles:
5. Business Analysis
IT plays an extremely valuable role in business. As overall data levels rise, business intelligence and data warehousing skills that enable professionals to gather and effectively analyze increasing amounts of data from various streams are also in demand. Moreover, instead of just focusing on cost savings, companies are investing in technology that provides access to, and analysis of, real-time data, enabling better business decisions.
This move from process-centric to data- and memory-centric computing is already having an impact on current computing trends. IT is expected to adopt a completely new approach to understanding data sets. Team members will be expected to possess new capabilities to perform fast, efficient data analysis. It will also require new hardware and software implementation skills as well as the ability to run and maintain them.
Certifications related to this skill:
Most common job titles:
Today, business analysis, data mining, and modeling capabilities are highly valuable skills to possess in any IT department. For example, conceptual modeling of the business view of the solution is a critical tool to help bring business, technology, and delivery groups together in defining solution scope. In addition to an ability to communicate details and concepts, critical thinking and sometimes system thinking are also key. These mean taking something large, ambiguous, and abstract and breaking it down into smaller pieces, patterns, and views within a business context. Finally, focusing on risks to the business value of the solution and communicating that risk to shareholders is another vital skill that IT team members need to have in regards to performing effective business analysis.