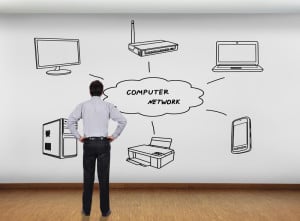 Did you know that a job as a Network Administrator is ranked #8 in the U.S. News and World Report's Best Technology Jobs of 2016 and the demand is expected to grow by 8% between 2014 and 2024?
As a Network Administrator you can expect a career that allows upward mobility and comes with a good salary. According to Indeed, Network Administrators can expect an impressive pay rate in Washington, DC, which is 25% above the national average. So is a job as a Network Administrator right for you? Keep reading to find out more about this profession.
What does a Network Administrator Do?
As a Network Administrator, you will be responsible for organizing, installing, troubleshooting, and monitoring the company's networks which can vary from LANs (Local Area Networks), WANs (Wide Area Networks), to GANs (Global Area Networks).
Businesses, especially large corporations, rely on networked computers that link coworkers and clients, which makes it important to have a Network Administrator on staff. It is the responsibility of the Network Administrator to assist with or oversee the development and maintenance of the computer network such that employees can achieve the company's goals. Because successful companies also own various types of intellectual property, as the Network Administrator, you must assist with or oversee ongoing network security needs.
Network Administrator Salary in DC
According to Indeed, the median average salary for Network Administrators sits at about $66,000. This salary ranges based on location, experience, and the employer.
In Washington, DC the average salary increases significantly to $83,000 per year and increases with experience.
Network Administrator Jobs
Computer savvy professionals seeking jobs as Network Administrators will enjoy an increasing number of job opportunities over the next decade. According to the Bureau of Labor Statistics, demand for this particular IT career path will grow over the next decade, allowing job candidates plenty of entry- and senior-level opportunities.
When you are looking for a job as a Network Administrator, you find that Network Administrator jobs can be found in all industries. This is just another perk of working in IT.
"Every industry today depends on IT. From small, family-run businesses to big corporations, there are IT careers in almost every organization around the globe."- CompTIA.
The Network Administrator position will also provide you with the fundamental experience necessary to advance on to jobs such as IT Manager/ Director, Network Engineers, Senior Network Administrators, IT Project Manager, or other Information Technology/ Security career paths you wish to pursue.
Network Administrator Certifications
A bachelor's degree in IT or computer engineering is often a minimum requirement for those interested in network administration. Whatever your education or work history, you must have a keen understanding of core services such as firewalls, DNS, and DHCP. Additionally, you must be able to identify how each technological component serves the general network infrastructure. To accomplish this, network administrators can gain an important competitive edge and boost their careers by undergoing IT training and obtaining various certifications. Some great certifications to start with include:
-- CompTIA certifications are fundamental to a networking career. They are vendor-neutral and provide a core foundation for anyone interested in pursuing network administration. CompTIA A+ and Network+ are two certifications that are considered essential aspects of every administrator's training, indicating a network, hardware, and software skill set.
-- Another CompTIA certification, Security +, represents an entry-level yet fundamental certification that indicates an administrator's basic skill set in network security. The Security + certification validates your expertise in maintaining the secure operation of any computer network. Specifically, it indicates an administrator's ability to handle network security as well as threat assessment. This credential is required by some government employers such as the Department of Defense who use it as a baseline credential before granting administrative rights on any Department of Defense network.
-- Cisco CCNA certifications provide administrators an underlying understanding of how routers and switches impact information flow. CCNA stands for Cisco Certified Internetwork Expert and identifies certification holders as being trained in the fundamentals of a network's operating system.
-- Cisco CCNA Security: although similar to the CCNA certificate, the CCNA Security designation certifies the administrator is versed in network security.
-- Microsoft offers a variety of certifications that indicate an administrator's level of expertise. The MCSA, for instance, describes someone trained as a Microsoft Certified Solution Associate. One step above this is the MCSE, which is defined as a Microsoft Certified Solutions Expert. Above that is the MCSM, which stands for Microsoft Certified Solutions Master. Each level represents perhaps the most common and important certifications for administrators working at the desktop and server level.
-- MCITP stands for Microsoft Certified IT Professional, and it indicates someone trained to administer Windows Server 2008.
-- PMP certifications identify administrators as being proficient in project management and able to oversee complex projects involving multiple team members. PMP certificate holders are trained to plan projects while being aware of budgetary constraints. PMP training also ensures an administrator can complete projects efficiently and on deadline without costly overages due to overtime.
Looking for certification training? TrainACE offers class-room based and online training courses to help you prepare for your IT certifications exams.