Information technology (IT) certifications come with certain benefits. Not only are they a valuable way to increase skills, but for many IT professionals, they provide an advantage in the job market. Recruiters, HR managers, and other hiring personnel often look at professional credentials on resumes first when filling IT positions. And it's not just in hiring that having certifications will give you an edge. It's also in earning potential. Certified employees typically earn higher salaries than their uncertified counterparts. In the IT world, that means a lot because some of the highest paying jobs are in this industry.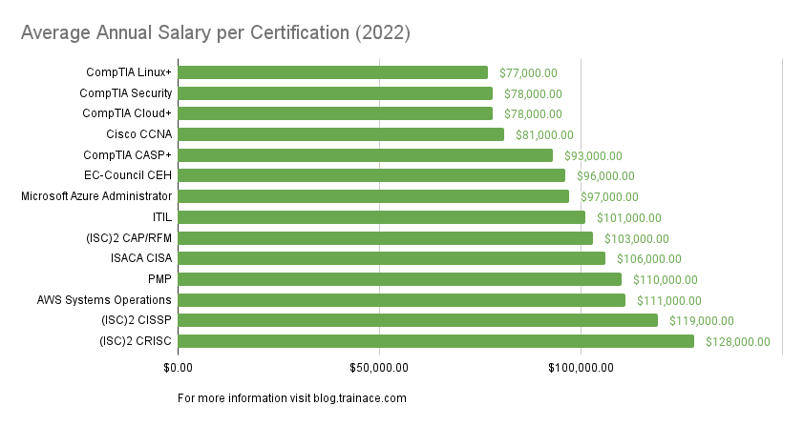 Take a look at the most valuable IT certifications in cybersecurity, information security, networking, cloud computing, and project, process, and risk management.
Cybersecurity and Information Security
Cyberattacks and hacking are huge problems for today's organizations, and there is an abundance of job opportunities in cybersecurity and information security that are going unfilled. Here are four of the best certifications in security.
1. CompTIA Security+
Anyone who is pursuing a role in cybersecurity needs the foundational, vendor-neutral Security+ certification from CompTIA. The certification validates skills in network security, operational security and compliance; threats and vulnerabilities; access control and identity management; application, data, and host security, and cryptography.
It's not only cybersecurity professionals who should consider this certification. It is also important for all IT professionals to have awareness and familiarity in this field, whether they work in security or not. There is a high demand for IT professionals with the skills and knowledge covered by the CompTIA Security+ certification.
Average annual salary: $78,000
2. CompTIA CASP+
CompTIA's Advanced Security Practitioner (CASP+) certification is an advanced-level credential for security engineers and architects responsible for leading and improving an enterprise's security readiness. This certification is designed for a professional with advanced skills but doesn't want to move into a management role. The CASP+ certification involves high-level topics such as software vulnerability, risk analysis, securing cloud and virtualization technologies, enterprise security domain, and cryptographic techniques.
Average annual salary: $93,000
3. EC-Council CEH
The EC-Council's Certified Ethical Hacker (CEH) certification validates a certificate holder's abilities in identifying vulnerabilities and weaknesses in computer and networking systems, using various hacking skills, with the ultimate goal of preventing future cyberattacks. Ethical hackers use the same skills, tools, and techniques used by malicious attackers to help organizations establish improved security measures and mitigate potential threats.
Average annual salary: $96,000
4. ISACA CISA
The Certified Information Systems Auditor (CISA) credential by ISACA is one of the most highly regarded and oldest certifications. Originally, it was created in 1978 as a tool for security professionals to ensure their organizations' assets were secure and maintained. Today's CISA certification validates skills in cybersecurity, auditing, and risk management. It covers five domains, including auditing information systems process; information systems operations, maintenance, and service management; information systems acquisition, development, and implementation; governance and management of IT; and protection of information assets.
Average annual salary: $106,000
Networking and Cloud
Every IT professional needs to have networking experience, as it's the backbone of much that is done in technology roles, and cloud computing is quickly becoming a new normal in technology. Credentials in these two important areas are highly respected and sought after. Here are five networking and cloud certifications to consider:
5. Cisco CCNA
The Cisco Certification Network Associate (CCNA) is an associate-level IT credential that focuses on tools and technologies needed to implement and administer Cisco networks and infrastructure. The skills that a CCNA certification validates include automation and programmability, IP connectivity, IP services, network access, network fundamentals, and security fundamentals.
Average annual salary: $81,000
6. CompTIA Linux+
The Linux+ certification from CompTIA is a credential that validates an IT professional's ability to install and support the Linux operating system, including topics like software configurations, user administration, file permissions, and the management of Linux systems. The CompTIA Linux+ certification is often used as a springboard for more advanced vendor-specific certifications, like those from Oracle and Novell. Many technology roles require employees to have a basic understanding of the Linux operating system. As a vendor-neutral certification, Linux+ is ideal because preparing for it teaches candidates Linux fundamentals without getting bogged down in a specific flavor of the operating system. Therefore, knowledge and skills are transferrable between different Linux+ distributions yet cover all the general tasks required for Linux administration positions.
Average annual salary: $77,000
7. CompTIA Cloud+
Though relatively new, cloud computing is here to stay. As it continues to grow, CompTIA's Cloud+ certification is keeping up. This credential demonstrates that certification holders have proficiency in cloud technologies, cloud markets, hybrid and multi-cloud solutions, and incorporating cloud-based technology into systems operations.
Average annual salary: $78,000
8. Microsoft Azure Administrator
Azure is a public cloud computing platform from Microsoft that allows users access to numerous cloud-based services. The Microsoft Azure Administrator certification validates a cloud administrator's ability to implement, manage, and monitor Azure's solutions. Overall, the role is to effectively manage Azure services, including computing, security, networking, and storage. It is a role-based certification that directly aligns with specific, sought-after jobs.
Average annual salary: $97,000
9. AWS Systems Operations on AWS
All types of organizations and businesses of all sizes, industries, and worth now use cloud computing. Amazon Web Services (AWS) has become a leader in providing cloud-based services to those organizations worldwide. The AWS SysOps Administrator Associate Certification is awarded to professionals who demonstrate their ability to implement, scale, migrate, and manage Amazon Web Services systems.
Average annual salary: $111,000
Project, Process, and Risk Management
Project, process, and risk management are indispensable to IT operations, and certifications can be a key stepping stone to managerial positions. Here are five IT certifications that will help pave the way to higher-level roles:
10. (ISC)2 CAP/RFM
The Certified Authorization Professional (CAP) is a certification from (ISC)2 that primarily targets information security practitioners. CAP certification maps closely to the Risk Management Framework (RMF), giving information security professionals a means through which they can validate their skills and knowledge of this important federal risk management process. This certification is especially important for IT professionals who work for the United States federal government and individuals in private businesses that work or want to work on government contracts.
Average annual salary: $103,000
11. (ISC)2 CISSP
The Certified Information Systems Security Professional (CISSP) is a security certification aimed at security analysts. It was created by (ISC)2 and has been compared in level to earning a master's degree in cybersecurity. The CISSP certification validates an IT professional's ability to design, deploy, and manage a cybersecurity program. The certification covers eight key areas: security and risk management; assets security; communication and network security; security architecture and engineering; identity and access management; security operations; security assessment and testing; and software development security. To earn the CISSP credential, candidates must pass a demanding certification exam and have at least five years of relevant work experience.
Average annual salary: $119,000
12. ISACA CRISC
With the ever-growing number of security breaches worldwide, the demand for professionals in the technology industry is greater than ever. The Certified in Risk and Information Systems Control (CRISC) certification from ISACA helps IT professionals develop the skills needed for these in-demand roles. The CRISC certification arms IT professionals with the skillset needed to identify, evaluate, and manage IT risk and plan and deploy control measures and frameworks. The certification tests skills in four key areas: risk identification, risk assessment, risk response and mitigation, risk control, monitoring, and reporting.
Average annual salary: $128,000
13. ITIL
ITIL, which stands for Information Technology Infrastructure Library, is a framework that standardizes the lifecycle of IT services within an enterprise. The ITIL certification scheme is comprised of several certifications that validate individuals' skills and knowledge using the IT management framework. IT professionals can choose from two designation paths, Managing Professional (MP) and Strategic Leader (SL), or they can do both.
The ITIL framework details processes, procedures, tasks, and checklists that are not organization- or technology-specific; rather, any organization can utilize it to deliver value, strategize, and maintain standards of competency. ITIL processes allow organizations to establish a baseline from which they can then plan, implement, and measure so that current processes can be optimized.
Average annual salary: $101,000
14. PMP
The Project Management Institute's Project Management Professional (PMP) certification is a very highly regarded credential that validates individuals' proficiency in defining, organizing, and managing projects from beginning through completion. Because the success of IT projects depends significantly on how well they are managed, skilled project managers are crucial to organizations. This credential provides employers and clients with confidence that the project managers they hire have the experience and knowledge their projects need.
Average annual salary: $110,000
Final Thoughts
Earning technology certifications is one of the best ways to demonstrate your skill, knowledge, and abilities in specific IT concepts. The information above shows the potential earnings for some of the most sought-after credentials. But it's important to remember that earning potential also includes your ability to apply those skills in the workplace, work experience, continuing professional development, and work ethic.