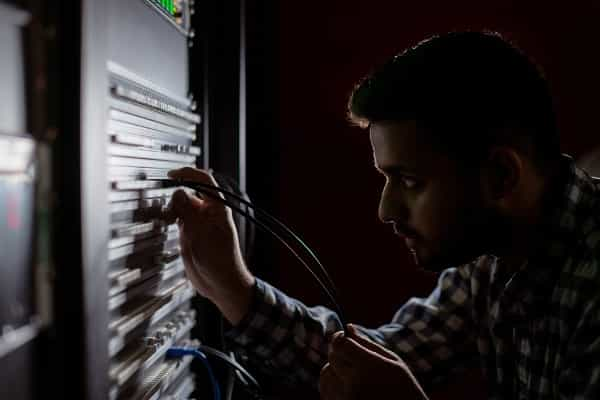 CCNA is Cisco's entry-level certification exam for anyone looking to get started in IT, especially in network support and network management roles. In February 2020, Cisco made significant changes to the CCNA accreditation by bringing together the old multi-track program under one comprehensive exam. Consequently, elements of the specialist exams such as CCNA Security were consolidated into the new CCNA 200-301.
Why you may have heard CCNA is going away
In February 2020, Cisco overhauled its flagship CCNA and CCNP certifications. Most certifications are refreshed regularly with up to date material, but this was a significant change to the structure of the programs.
In the old CCNA certification process, candidates chose from a multi-track certification program. First, you would have to pass a core exam – CCNA Routing and Switching and then a specialization exam. This meant that if you wanted to change your specialist area, you would have to switch tracks and take another exam.
As it stood, the old CCNA program was pushing people who were fairly new to the industry down specialization tracks that they were most likely not ready for, so bringing the different elements of CCNA together in a broad, entry-level exam makes a lot of sense.
With the new certification, the essential elements of all the certs have been brought into one comprehensive test. So, in answer to the question 'Is CCNA going away?' the answer is no. The specialization exams were retired, but the content was brought together under the new version of CCNA.
Is the new CCNA exam harder than the old CCNA exam?
The new exam is not technically harder than the old one, but because it covers more topics, you will have to include a broader range of topics during your study. The exam lasts 90 minutes and consists of 60-70 questions.
The good news, however, is that the consolidated exam ensures you have the fundamentals of all the different areas covered by CCNA in one go. So, unlike the old program, as a relative beginner in the IT industry, you are not being forced to make a decision on which are of the industry you wish to specialize before you have your fundamentals down.
What is CCNA?
Cisco CCNA is an in-demand, entry-level certification for anyone looking to break into IT. As software, infrastructure, and networking become ever more integrated, anyone looking to make their way in the IT industry must have a fundamental understanding of networking technologies, automation, security, and programming. The new CCNA 200-301 certification now proves a candidate's skills and knowledge in all these areas under one exam.
If you have some experience working with computers and networking, then CCNA training and certification is an ideal next step to developing your career. This is particularly true if you have CompTIA A+ or Network+ certification, and you are wondering what to do next.
The CCNA program is designed to give you a single certification that covers a wide range of fundamentals that fulfill the early requirements for all IT careers. As you train for the CCNA exam, you will learn a broad range of topics such as network access, IP services, IP connectivity, network fundamentals, security fundamentals, automation, and programmability.
In short, CCNA is one of the IT industries most sought after qualifications and is used as a standard in job applications around the world.
What comes after CCNA?
Once you have your CCNA certification and are working in the industry, your experience will guide you towards a specialization. With the IT world continuously expanding, there are many different disciplines you can follow. If system administration and systems engineering are your main interest, then continuing along the Cisco certification tracks can be very rewarding and very lucrative. In this case, you would investigate taking CCNP.
If, on the other hand, you want to dive into cybersecurity, your next best step would be to take CompTIA Security+ and Certified Ethical Hacker. These two certifications will take you into the world of information security (commonly referred to as infosec), penetration testing, and digital forensics.
Where can you get CCNA training
There are many ways in which you can train for the CCNA certification exam, ranging from free online self-guided tuition to traditional in-person, instructor-led classes. How you learn will largely depend on your personal choice and budget.
If you are very self-disciplined and able to master challenging concepts via books or videos alone, then self-paced classes can be the most cost-effective choice. Typically, self-guiding training takes longer than instructor-led training because it is easy to get distracted by your daily life.
If, like most of us, you need a little more structure to keep on track with your training, and you need the ability to interact in-person with an instructor to understand difficult concepts, then instructor-led training is your best choice. This type of training costs a little more, but you are more likely to learn and retain the information you need for the exam in a much timelier way.
TrainACE offers both self-paced and instructor-led training for CCNA and other Cisco certification exams. From getting started in IT, to advanced IT management and cybersecurity roles, we have helped thousands of IT professionals advance their careers in the IT industry.