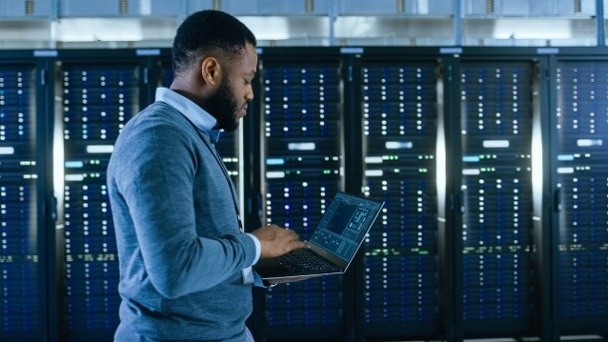 As a network engineer in Washington, D.C., you will be in the heart of the country and the IT industry. The duties of someone in this role are wide-ranging and can be very complex. Putting it simply, a network engineer is responsible for building and maintaining the daily operations of an organization's computer networks, including an intranet, extranet, wide area network (WAN), and local area network (LAN). However, there isn't a typical day for a network engineer, and you never know what will come up.
What Are a Network Engineer's Main Responsibilities?
A network engineer must maintain an organization's computer networks and software, hardware, and other related systems. Organizations look for IT professionals with a solid understanding of network infrastructure and network hardware when hiring a network engineer. Candidates may be responsible for replacing damaged or broken hardware components and working with users to identify and mitigate existing network problems.
The exact duties of a network engineer may be different, depending on the company, the size of the IT team, the level of experience, the complexity of the organization's networks, and other factors. However, some of the most common responsibilities include:
Maintenance and administration of computer networks and related software, hardware, applications, and configurations.
Protect hardware, software, and data by planning, coordinating, and implementing network security protocols.
Troubleshoot, diagnose, and mitigate software, hardware, and other system and network issues.
Maintenance, configuration, and monitoring of virus protection email applications and software.
Replace defective network-related hardware when needed.
Maintain disaster recovery operations and backup of data when needed.
Work with network users to help solve network or system issues.
Monitor the network performance to know when there is an adjustment needed.
Operate master consoles to monitor network and computer systems performance.
Coordinate computer network access and use.
Design, configure and test computer hardware, network software, and operating system software.
The above technical abilities are not all that is required to be a successful network engineer. There are also soft skills that are crucial to those IT professionals who fill the role. Soft skills like critical thinking, communication, leadership, and teamwork are as important as technical skills. Consider that a network engineer cannot effectively manage a team without having leadership skills. IT projects may fail or not get completed on time when there is poor communication. And, building optimized and secure networks won't be possible without critical thinking and problem-solving skills.
What Might a Network Engineer's Day Look Like?
It's hard to say what a typical day is for a network engineer because there are a thousand things that can happen or go wrong in a short amount of time. Some engineers may work a typical 9 to 5 day most days, but many work nights and weekends because their networks must be operational 24/7, and the typical sources of issues that can interrupt operations are unpredictable. In Washington, D.C., various organizations and corporations of all sizes and complexities have scheduling requirements specific to each business.
For a network engineer who works mostly regular business hours, a typical day would likely start with assessing the networks to see if there were any problems the night before. There may be problems reported via email, or you might notice them on reports for yesterday's network performance. Depending on what you find, you may have to address some issues right away. If there aren't any, then you may begin setting up updates that will run tonight while the network isn't as busy.
During the day, you may have meetings with organizational leadership to talk about network issues, current or upcoming projects, or other management matters. At some point during the day, you will likely have a meeting with your team to discuss what's going on, delegate tasks, and receive updates about ongoing projects or assignments.
There may be a network problem that develops, which you and your team have to resolve. You'll troubleshoot, diagnose, and try to come up with a fix for the issue. Depending on the network problem, mitigation might take a few minutes, or it may take up the rest of your day or even several days.
Before you leave for the day, you check again to see if there are any reported problems. If there are, you have to determine if they need immediate attention or if they can wait until tomorrow. Hopefully, you will make it home in time for dinner.
Job Outlook for Network Engineers in Washington, D.C.?
The outlook for network engineer jobs in the U.S. overall is favorable. Job openings are abundant, with a shortage of qualified professionals to fill them. In the metropolitan Washington, D.C. area, the job market for network engineers is even better. With the proper education and experience, you should have no problem finding a position with a top-rated organization.
According to Indeed.com, network engineers in metro Washington, D.C. are among the most sought after professionals in the area, with pages of job openings. Additionally, network engineers in D.C. are paid higher salaries than professionals in many other industries. In Washington, D.C., the average annual wage for network engineers is $130,781, which is 19 percent higher than the national average.
Abundant job openings and higher salaries are not the only benefits of being a network engineer in metropolitan Washington, D.C. You will also find that many of the corporations hiring for that role are some of the country's largest and most influential organizations. Corporations like Danaher, Lockheed Martin, Marriott International, Capital One Financial, General Dynamics, Hilton Worldwide, Northrop Grumman, and AvalonBay Communities are headquartered in metropolitan Washington, D.C., and they are frequently looking to hire network professionals.
Get Started on Your Network Engineering Career with TrainACE
Network engineering is a challenging but exciting field that is in-demand in the metro Washington, D.C. area and around the world. However, you won't get there on your own. At TrainACE, we can help you grow your networking skills to enhance your career, whether you are just looking to take a few courses or pursuing IT networking certifications. We offer comprehensive training courses for all levels of experience, so whether you are just starting your IT career or you're looking to advance from your current networking role, we have the ideal courses for you.